Yep, finally got one :) Teehee :@ Although this is just a cheaper version, I don't think there's much of a difference over the expensive ones. Here's a photo of the Kissing Star Necklace as seen in the super popular Korean Drama Boys Over Flowers.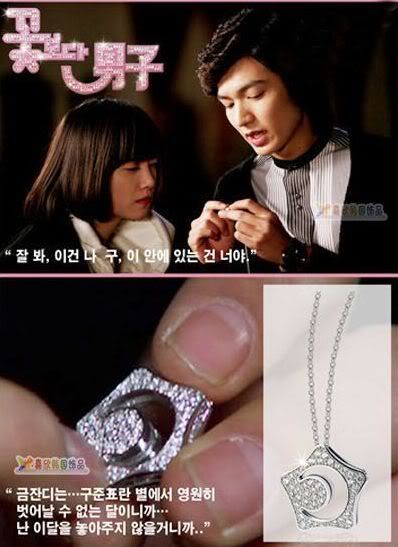 I bought mine on ebay for a very reasonable price last Christmas, and I am very happy now that I have it.
Here are more shots of the Kissing Star Necklace.. Enjoy ~
<3
It has rhinestones too so its sparkles a little when light flashes. Its not that sparkly but its really pretty in person. The details are just so perfect.
Now that I have this, I feel like I am Geum Jan Di wearing this necklace given by Goo Jun Pyo <3 HAHAHA *in my dreams* lol I might as well call myself Jel Di. Haha :p
I am loving Korean drama memorabilia like necklaces and I currently have my eyes set on the necklaces from He's Beautiful and 49 Days. I might get the one from He's Beautiful first because its cheaper than the Teardrop Necklace from 49 Days. Also I am thinking of getting that necklace from Heartstrings and the Crown Necklace from Princess Hours. Argh so many stuffs to buy, so little money *poor me* I hope that I get to have them soon :)